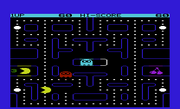 Jelly Monsters
for the Commodore VIC-20 is a faithful port of Namco's
Pac-Man
by HAL Laboratory, who had the home computer rights to Namco's games in Japan at the time. However, when the games were released in North America, the names were changed to avoid legal issues with Atari, Inc., who had the home computer rights in North America.
Pac-Man
was changed to
Jelly Monsters
and was published by Commodore International. Atari ended up suing HAL and Commodore anyway and won the lawsuit. Atari pulled off
Template:Clarify
HAL's VIC-20 port and released their own version of
Pac-Man
. After the lawsuit, HAL sold the Japanese home computer rights to Dempa, who ended up porting the game to many home computers in Japan (not including the MSX version of the game, which Namco ported themselves under their Namcot branding).