Pac-Man Championship Edition (パックマン チャンピオンシップエディション Pakkuman Chanpionshippu Edishon) is a game released by Namco Bandai Games in 2007, originally exclusive to the Xbox Live service for Xbox 360. It is the first entry in the Pac-Man Championship Edition series.
Gameplay
The game takes many features from the original Pac-Man. The player controls Pac-Man, and must navigate him through a maze while collecting dots; all the while, he must avoid Blinky, Pinky, Inky, and Clyde.
Each map is divided into two halves. Eating all the dots from one half spawns a Bonus Item on the other side; eating it will replace the cleared half with a new maze layout, with another set of dots for Pac-Man to eat. This process continues until the end of the round.
As the game progresses, the game's speed increases; losing a life will reduce the speed. The player is only given 5 minutes to play (10 minutes in some other game modes), and the game ends either if the player loses all of their lives or after the timer reaches zero.
Game Modes
Championship Mode (05:00)
Challenge Mode 1 (10:00)
Challenge Mode 2 (10:00)
Extra Mode 1 (05:00)
Extra Mode 2 (10:00)
Extra Mode 3 (10:00)
Scoring System
Achievements
These are the 12 achievements you can get on this game and it's ports, However you can't earn them in Pac-Man Museum except for a few medals that you can earn the same way as an achievement.
| Icon | Name | Description |
| --- | --- | --- |
| | 200,000 Points | Score 200,000 points! |
| | 400,000 Points | Score 400,000 points! |
| | Sparkster | Emit sparks for 1 second! |
| | 8 Ghosts | Eat 8 ghosts in succession! |
| | Championship Mode | Complete Championship Mode! |
| | Challenge Mode 1 | Complete Challenge Mode 1! |
| | Challenge Mode 2 | Complete Challenge Mode 2! |
| | Extra Mode 1 | Complete Extra Mode 1! |
| | Extra Mode 2 | Complete Extra Mode 2! |
| | Extra Mode 3 | Complete Extra Mode 3! |
| | Key | Eat the Key! |
| | Crown | Eat the Crown! |
Xbox 360 Theme & Picture Pack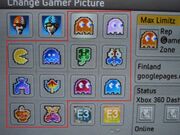 According to the Xbox 360 page there are 2 extra downloads for this game.
PAC-MAN C.E. Theme 01 — Assumed to be a Xbox 360 home menu theme
PAC-MAN C.E. Picture Pack — Xbox 360 Profiles pictures of this Pac-Man, Ghosts, and Items
Home Ports
Android
Famicom/NES

Homebrew port created in 2008 by coke774. The ROM was never made available to the public, though a video of gameplay was released.[1][2] In 2020, a modified version of the game was released under license from Namco, included in Namcot Collection and Namco Museum Archives Vol. 1.
The original homebrew's soundtrack is taken from the Tengen NES version of Pac-Mania. The title screen, statistics, and high score table use music from the Famicom Disk System, Famicom Disk Writer (slightly remixed), and Hopping Mappy, respectively. The final official release uses custom music, with the statistics being a remix of Pac & Pal's main theme.

HTML5

Available on a website titled GamePix; it was confusingly listed as just "Pacman". It likely originated from another source, but it is unknown where. It was removed from the website sometime in June 2020 and replaced with Tentrix.[3]
The time limits were shorter than the original game; 10 minute modes were reduced to 5 minutes, and 5 minute modes were shortened to 3 minutes.

iOS (iPhone, iPad, etc.)
Nintendo 3DS
PlayStation 3
PlayStation Portable
Roku TV
Windows Phone
Xbox 360
The Xbox 360 version was the first to be released. the Xbox Live Arcade Compilation Disk is the best method of playing it on the 360, as it does not require a subscription to the aging Xbox Live service. This is Xbox 360 compatible so it is playable on modern Xbox systems with the title named Pac-Man C.E..
Trivia
This was the final game developed by Toru Iwatani, the creator of the original Pac-Man, before his retirement.
Pac-Man Championship Edition boosted Xbox 360 hardware sales in Japan (the 360 was a very unsuccessful console in the region).
The director of the Championship Edition series, Tadashi Iguchi, claims that Pac-Man C.E. was intended to release for Pac-Man's 25th anniversary. It was likely pushed to 2007 due to a large number of other Pac-Man titles released during his 25th.
Gallery
Screenshots
Artwork
References